UC's Partners help small and medium businesses nationwide in response to Remote Working requirements free till May
March 18, 2020

Author: Keith Young
The COVID-19 spread is unprecedented and your clients need a rapid solution to work remotely quickly and easily.   UnitedCloud, a leading provider of unified communications and collaboration solutions to Canadian businesses and the partners that serve them, today announced a new program to help businesses, non-profits, educational institutions, and other organizations stay connected through these challenging times.
FREE AUDIO CONFERENCING: UnitedCloud is making Unlimited Audio Conferencing available to all existing and new users for free till May 2020, with full conferencing features and no participant limit or meeting time limits.
NEW CLIENTS RECEIVE 100% FREE SERVICES TILL MAY:  This new offer is available to all new customers and allows remote teams to have Canada's best phone solution for remote and in-office staff.
– Waive all porting charges
– Waive all programming and remote configuration fees
– Waive all Phone Number and Hosted PBX Service Charges 
– Free Conferencing (unlimited participants and call lengths)
– Optional UC903 Free Telephone with a 2-year agreement via our agent partners
Reo Harb, UnitedCloud's Managing Director quoted "Organizations have enough to worry about at a time like this. As health organizations and government officials increasingly recommend (and in some cases mandate) remote working arrangements, staying connected to one another is essential to maintain collaboration and productivity. We hope that by making our cloud-hosted PBX solution available completely free through the end of April, with no setup fees and free phones (with a 2-year commitment for a free bundled phone), we are doing our small part to help businesses, organizations and institutions stay connected and moving forward."
CHANNEL AND PARTNER DRIVEN: UnitedCloud recognizes that many of its partners and their customers are facing an immediate need to support remote workers with effective communications and productivity tools. The offering will also be available to partners, allowing them to further extend the goodwill and assist their customers during these challenging times.
UnitedCloud is a leading Unified Communications as a Service (UCaaS), Contact Center as a Service (CCaaS), and business productivity applications provider ultra-focused on delivering easy-to-use and secure communication and collaboration solutions to businesses and the partners that serve them.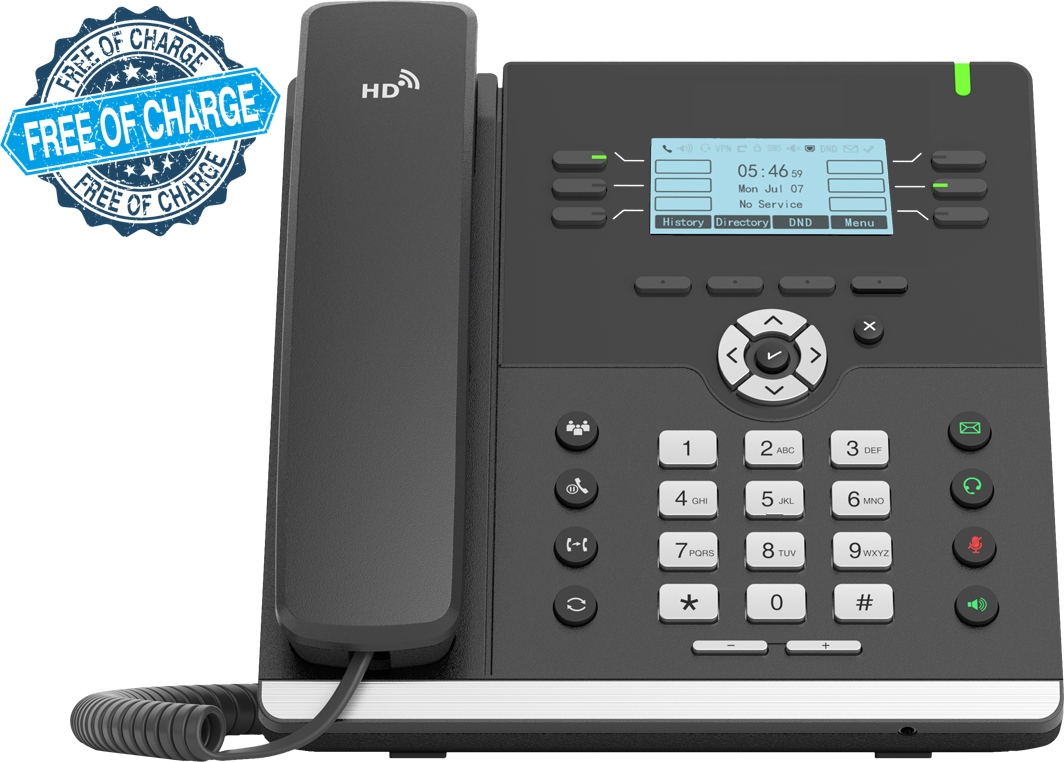 RAPID DELIVERY OPTIONS AVAILABLE
1. Provide AC Power adapters that allow existing clients to simply move home with their desk phones.  All Queues and Auto Attendants will work the same as when in the office.
2. Install softphones on mobile iOS and Android devices, or use the free Web Phone desktop utility available on any computer anywhere with a broadband connection.
3.  New clients can be added and programmed as new domains and running within minutes with the free and included Web Phone.  Forward their existing numbers to temporary telephone numbers on the platform for immediate effect.
4.  Physical telephones can be drop shipped and fully programmed from UC's Calgary location with your "packing slip" and courier of choice to the new end-clients if desired overnight.  UC Has over 1,000 phones in stock, and 1,000's more in warehouses in Vancouver, Toronto, and Montreal.  USA sourced supplies are also rapidly available.
New Partner and not yet signed up?   Not to worry, we can set you and your clients up within the hour and operational very quickly.
Free and near-instant phone services are provided to all Partners
[wpforms id="3171″]